Our client, the National Portrait Gallery, took honors at this years Museums Australia Design Awards. Of a record 647 publications, from 147 different organisations, the Portrait Gallery won six awards in five of the eight categories. In the category of website, Link Digital's Steven De Costa was Highly Commended for the design and development of
---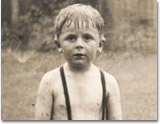 Our client, the National Portrait Gallery, took honors at this years Museums Australia Design Awards. Of a record 647 publications, from 147 different organisations, the Portrait Gallery won six awards in five of the eight categories. In the category of website, Link Digital's Steven De Costa was Highly Commended for the design and development of the online exhibition for Rarely Everage. The criteria for judging were:
original creative idea, innovative concept;
design skills in expressing and extension of the idea through high quality typography, photography, illustration, layout structure and material use;
relevance of purpose, ability to effectively and meaningfully communicate, usability;
production and technical values, the reproduction process, presentation.
You can view the online exhibition at www.portrait.gov.au, while more on the Design Awards can be found at www.museumsaustralia.org.au.