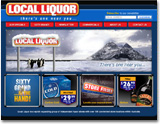 The new Local Liquor website is an integrated marketing device designed to leverage the group's regular marketing activities to develop an entirely new communication channel with customers. Launched at the same time as the group's Sixty Grand in the Hand promotion the website will now be a major part of Local Liquor's promotional mix.
Customers will now be directed to the website to participate in various promotions, each of which will be designed to build a qualified list of Local Liquor subscribers. Over the coming months these subscribers will receive internet based marketing materials, including the group's fortnightly specials.
The Local Liquor website's functionality is being released in stages that are designed to maximise the exposure of this new promotional resource. Keep an eye out for future updates!