As part of the ACT Government's Business in Focus month, September 09, Link conceived the Canberra Business Blitz program to mentor, advise and provide services to local small businesses over a four week period. Three businesses were selected from hundreds of entries and, with our keen partners at Threesides Marketing and the Schmooze Network, we
---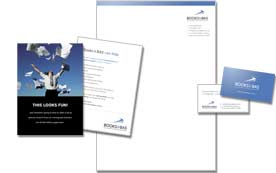 As part of the ACT Government's Business in Focus month, September 09, Link conceived the Canberra Business Blitz program to mentor, advise and provide services to local small businesses over a four week period.
Three businesses were selected from hundreds of entries and, with our keen partners at Threesides Marketing and the Schmooze Network, we spent the month of September addressing the specific business challenges of: Striped Mouse Bookkeeping, GPT Designs and Therapy Masters. A website was designed and developed for interested parties to follow the Blitz progress and vote for the most successful 'Blitzee'.
September is long gone and the Blitz is a wrap, with Therapy Masters receiving the most votes. Their prize is a number of ongoing services but the other competitors haven't been forgotten and all are expected to continue benefitting from the expertise of Link, Threesides and Schmooze.