Link has recently delivered a full suite of products to support and promote the latest online exhibition of the National Portrait Gallery (NPG): Doppelganger. This exhibition explores contemporary notions of portraiture in the online realm and is even based in the 3D online environment known as Second Life. Our early involvement created the Doppelganger logo
---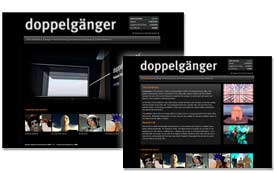 Link has recently delivered a full suite of products to support and promote the latest online exhibition of the National Portrait Gallery (NPG): Doppelganger. This exhibition explores contemporary notions of portraiture in the online realm and is even based in the 3D online environment known as Second Life.
Our early involvement created the Doppelganger logo and associated branding and led to the design and development of banner ads that introduced the Second Life Avatars. The website, predominantly built in Flash, incorporates a generic home page and information site as well as five uniquely themed sub-sites showcasing the works of each of the five artists including CV's, stills and videos of their work.
An electronic invitation that involved the creation and animation of an Avatar, or doppelganger, of NPG Director Andrew Sayers, was designed and developed to welcome guests at the real world NPG launch to the Second Life exhibition. It was teamed with a fly through or virtual tour, also designed and developed by Link which supported and continued the virtual world/Second Life themes and ideas.
The work continues our dedication to quality and innovation in the delivery of exhibition sub-sites for the NPG: to date we have completed over 30!