Link has successfully completed design and development of an online seminar (subsite) for the Australian Federal Police. The subsite includes: a voice audio presentation with supporting visual animations, delivered via an embedded Flash file; a voice audio made available as an mp3 download, suitable for playback on either a personal computer or portable mp3 player
---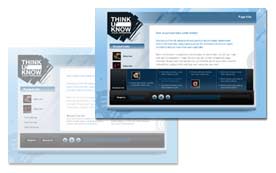 Link has successfully completed design and development of an online seminar (subsite) for the Australian Federal Police.
The subsite includes: a voice audio presentation with supporting visual animations, delivered via an embedded Flash file; a voice audio made available as an mp3 download, suitable for playback on either a personal computer or portable mp3 player; and a full transcript of voice audio with supporting graphics, suitable for users with limited access to audio equipment or with a hearing impairment.
The seminar addresses the 'ThinkUKnow' approach to online security in regard to children and how and where they access online materials. Link has previously completed the ThinkUKnow website for this initiative.