To mitigate problems usually associated with abnormally high levels of web visits to the ACTTAB site on and around Melbourne Cup Day Link has, for the third year running, successfully delivered a new website specifically for the event. ACTTAB's racing and sportsbet data was temporarily stored on our hosting server, treated with a new look and
---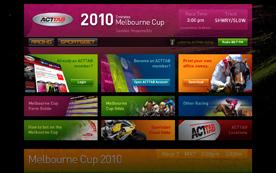 To mitigate problems usually associated with abnormally high levels of web visits to the ACTTAB site on and around Melbourne Cup Day
Link has, for the third year running, successfully delivered a new website specifically for the event.
ACTTAB's racing and sportsbet data was temporarily stored on our hosting server, treated with a new look and presented back to the punters with all the whistles and bells a Melbourne Cup site requires: links to form guides, betting guides, login facilities and even a downloadable 'sweep' poster.
Link was on call all day to ensure any details of scratchings etc were made live and to ensure any unexpected issues got immediate attention.