Social media can be integrated with your website and is an increasingly significant ranking factor for search engines: Do you find that the promotion of shareable content is a great way to dive an increase in the number of inbound links for your website? The least effective websites around today are those that sit glumly in their
---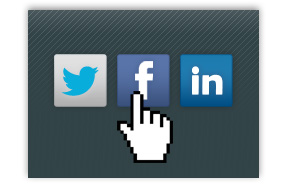 Social media can be integrated with your website and is an increasingly significant ranking factor for search engines: Do you find that the promotion of shareable content is a great way to dive an increase in the number of inbound links for your website?
The least effective websites around today are those that sit glumly in their own exclusive corner of the internet, refusing to play with anyone else. If they're to have any chance of surviving, let alone thriving, they'll need to reinvent themselves as part of a larger, interactive and dynamic, online profile. Incorporating social media as a manageable and relevant component is the best place to start.
The use of social media sites as a publishing platform increases the reach of your content while also increasing the number of your potential content authors via the use of crowd sourcing techniques. Additionally, the organic and timely nature of social sharing is highly considered within Google's current content indexing algorithm (PANDA). For an effective search engine optimisation strategy, your off-page activities will benefit from a website that is closely integrated with social platforms like Facebook, YouTube, Twitter and LinkedIn. As such, Link produces tailored strategic social media plans for our clients that include the development of bespoke engagement guidelines for various platforms.
At Link Digital our social media methodology considers the specific needs of organisations looking to leverage social media to build their influence/visibility online and generally begins with an assessment of the effectiveness of any existing profiles. Of course in cases where no moves have been made into the burgeoning social arena, we would likely start by making the case for social media and explaining the specific benefits therein, such as the SEO joys of generating a recurring source of relevant content. Some further areas to be addressed might include:
How to build a tailored Twitter following
A comprehensive list of likeminded interest groups (even competitors) already using social media with which you could connect
Case studies of like-minded social media accounts discussing tactics, success or failure
Authentic advice on how to engage in Twitter and Facebook effectively
How to best implement and manage a YouTube channel
Strategies for measuring and reporting on success in social media
Optimising design and static information on various media platforms
Guidelines around moderating community interaction
Cross promotion of social media platforms and your website
Development of a social media engagement policy for staff
At risk of labouring the point, documentation and recommendations resulting from the review process are tailored to be client specific and tied in with the over arching goals of your organisation. We don't just give you a generic rant on the wonders of social media.
Link Digital's social media design and set up services have been provided to clients including the ACT Government, Village Building, the Australasian Railway Association, the Shannon Company and IP Australia.