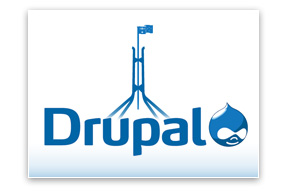 In 50 words or less (or, maybe 65)…
I'll bring a strategic marketing framework to the Board – but don't confuse this with posters and tweets
I want to help the DA define its position within a broader economic view of the IT services industry and leverage the flow of value to benefit the Drupal project. 1st up: I'll aim to bring new funds via Govt memberships and a grants funding initiative.
Now, the extended version…
I aim to bring new members from the user side of the community, create targeted global special interest user groups that help the project continue to thrive, and I aim to bring new funding opportunities to help support all the Association's existing initiatives.
Where does Drupal sit in the economic value chain?
If you look at the entire IT industry, it is mostly part of a supply engine. Actual production of economic output occurs either via the platforms implemented or is facilitated by them (such as with an eCommerce website).
From what I've experienced so far, the Drupal community currently represents the aggregated needs of those working within this supply ecosystem. It has very little involvement with the actual outputs being produced by customers.
What are the long term threats to the Drupal project?
I see two significant threats to the Drupal project if it stands only within the economic footprint of IT services:
The contraction of the IT services chain is real, so the market for Drupal will shrink and ultimately be replaced with services that emerge directly within hosted service platforms and are click-configured directly by user organisations.
The Drupal services ecosystem will begin to cannibalise itself. Groups are already providing hosted distributions that can be deployed directly by clients without any additional partner support. Distribution contributors are pivoting toward monetisation strategies that will also aim to capture the direct customer dollar. In a more competitive atmosphere, where the business process IP of coded modules and distributions is seen as a possible revenue model, groups will begin to hedge their community efforts in favour of entirely commercial efforts.
What is an immediate opportunity for the Drupal project?
Drupal is being adopted by a lot of organisations worldwide that are choosing it over the online publishing platforms of proprietary software vendors. The opportunity exists for the Drupal project to engage with site owners and operators so it can better understand and aggregate their needs. The entire project could benefit significantly by stepping more into the world of end users, understand how to best add unique value to their production capability, then nurture and secure each vertical by investing resources to support that special interest group.
Do the Association goals align with this opportunity?
It's important to note that the Drupal Association has no authority over the planning, functionality and development of the Drupal software.  Even the Drupal.org sites, which are a responsibility of the Association and are in need of significant upgrades in content, structure, platform and functionality are currently managed and maintained by teams of dedicated volunteers from the Drupal community.
Referring to the statutes for the Drupal Association, the goals are described as:
The purposes of the Association shall be for providing support in developing, communicating, promoting, distributing the Drupal project and in deploying an infrastructure in support of the Drupal project.

The scope of the "Drupal project" shall include the following specific issues: the Drupal open-source software system (http://drupal.org), the community of developers and users of this software and all associated activities and all infrastructures in their broadest sense considered to be required to further develop this project.
What does the community of developers and users of Drupal look like? This diagram helps illustrate the Drupal Community, which in turn helps to show what the scope of the Drupal project is.
The biggest population in the diagram falls into the category of 'People that use Drupal'.
Who are these people? Depending on your perspective:
They are Drupal site owners and operators
They are the Drupal developers who setup the sites and might still maintain them from a technical perspective.
They are both of the groups above.
No matter your perspective, the population of people that use Drupal is large enough to cover the specific interests of 7.2 million Drupal sites (as estimated in July 2010).
So, the Association goals are to support users, the community is defined to be inclusive of users, yet I suspect there are a lot less that 7.2 million interested parties currently being targeted for support by the Association under its current set of initiatives.
Lets inform, interact and transact with those using Drupal to further develop the project for everyone in the Drupal community.
Where can new funding initiatives emerge?
With my own bias of being located in Canberra, the Capital city of Australia, I see providing support to National Governments as the closest and most significant opportunity. Collectively, Government's already have billion dollar budgets for IT expenditure and they are open to petitions from non-profits to rethink how they spend those dollars to provide better economic and social outcomes.
Further, there are growing Open Government and Open Knowledge movements which the Association can align or partner with to help generate a voice that extends beyond the subject of software development and further into the realm of social publishing.
I will work with others to directly bring together the needs of National Government organizations and encourage them to join the Association as individuals, organizations and supporting partners.
I will encourage this group to seek ways it can work with Drupal developers and commercial organizations to further the Drupal project in alignment with their specific needs. This could initially be run as a grants program which funds specific development outcomes; such as best practice models for lifecycle management, enterprise architecture, security hardening and performance optimization.
If it works, the funding model scales by the formation of additional special interest groups (SIGs) within industry verticals such as finance, retail, entertainment, etc. Ultimately, to be truly scalable, the mechanics to generate SIG project funding could be modeled on existing crowdsourcing approaches used on sites like Kickstarter.com and bidded for by commercial groups or individuals who are registered members of the association. Self-organizing SIGs can make their own rules on deciding on who receives the development grants on offer and Association revenue can be derived through a small percentage of the funds allocated against SIG projects.
Importantly, all of this can be supported by the tasks the Association is entitled to undertake in support of its goals. All it needs is someone to kick things off with a business case to establish the initiative, and that is something I'm already working on.
If you are in support of public money funding significant development initiatives within the Drupal project, please consider casting your vote in my direction
Either way, I'd love to receive your comments below.
Who can vote in the elections?
You are eligible to vote if you have an account on drupal.org, logged in during the past 12 months, and created your account before 31 August 2012 when the election was announced.
How to vote?
Login at http://association.drupal.org
Check a box confirming you are eligible to vote.
Rank the candidates in your order of preference.
You do not need to rank all candidates.
Save the form.