You probably know what to say on your website and you've probably even got a good idea how to say it. But do you know how you have to say it? While you're busy worrying about html templates and the perils of responsive design, if you want to ensure your site is ready for WCAG
---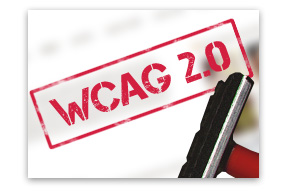 You probably know what to say on your website and you've probably even got a good idea how to say it. But do you know how you have to say it?
While you're busy worrying about html templates and the perils of responsive design, if you want to ensure your site is ready for WCAG 2.0 scrutiny, even at the minimum compliance level of Single A, come the end of 2012, you should consider also bringing in a web content specialist to write, refresh or edit the actual words on your site.
To say that WCAG 2.0 is comprehensive is like saying the ocean is wet. These exhaustive guidelines even have their own guidelines to understanding the guidelines and this documentation in itself includes over 70 html pages in its table of contents. More and more government agencies, even those with their own in-house teams are looking externally for web design and development specialists to help them navigate their way to success on the W3C accessibility train: the really savvy agencies are also seeking content specialists.
Admittedly the focus of WCAG 2.0 is largely on layout, site navigation and technology compatibility, but content is still the reason people visit websites and making it accessible and readable is still of major significance. There are a number of boxes that need ticking if you want your actual content, and not just your site's look and feel, to be WCAG 2.0 compliant. The success criterion in this regard are covered, for the most part, by "Guideline 3.1: Make text content readable and understandable". Link Digital's own web content specialists have put together the following examples of the kind of issues arising from this Guideline and pertaining to best web content practice in general. These are issues we address for our clients, including some that might not be immediately apparent.
Does your website include ambiguous heteronyms? These are words with different meanings depending on their pronunciation. Examples include "present', 'refuse' and 'object'. They are usually explained in the context they appear but not always with complete clarity. This is just the sort of thing a subject matter expert can overlook.
Can your web content be understood at a lower secondary education reading level (years 7 to 9 in Australia)? There are formulas for calculating readability levels and a number of testing tools including some already built into Microsoft Word.
Do you know the difference between abbreviations, initialisms and acronyms? WCAG 2.0 actually recommends explaining abbreviations but this can be confusing, misleading and/or interrupt the flow of the content. Technically, you are not even supposed to use the abbreviation 'Dr' for 'Doctor' without including it in full at the first occurrence (although this is really only applicable for AAA level compliance).
Is there jargon in your website that you've come to think of as regular language? It's easy to overlook industry specific jargon and cultural idioms. For web users outside of a specialist area or from a different cultural or language background they can be very confusing.
Have you thought about how screen readers for visually impaired people will interpret your content? One consideration is pronunciation of difficult or foreign words.
Do you have in-house style guides that reference grammar and punctuation? Have such guides been assessed for compliance?
Are you across, and is your website compliant with, the various other guidelines, additional to WCAG 2.0 that Australian Government agencies are expected to meet? These are listed in the Australian Government Web Guide. One example is the guidelines prescribed by the Information Publication Scheme (IPS) under the Freedom of Information Act 1982. These guidelines refer to a lot of common sense inclusions you're not likely to miss – name of agency, contact details et al – but also cover less apparent areas for consideration such as online forms, grants reporting and the different requirements of agency and program sites.
Do you really know what is meant by 'Plain English'? Its technically been in use in Australia since the 1970's but is still missing from a lot of sites.
Because Link's web content specialists work alongside our designers and developers they enjoy a more holistic understanding of the ins and outs of WCAG 2.0 and produce content that is compliant, relevant, concise and complements a site's navigation, look and feel.
Achieving WCAG compliance can mean a whole lot of headaches. But with the right help, 'content' needn't cause more than a momentary pulsing sensation in the left temple.