As the Canberra Theatre Centre's (CTC's) preferred digital partner, Link Digital has delivered a refreshed design for CTC and Canberra Ticketing that renders across all mobile platforms including smart phones and tablets. Responsive design is more about responding to consumers than to technology. This has been the experience of the Canberra Theatre Centre's Marketing Manager
---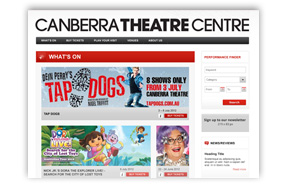 As the Canberra Theatre Centre's (CTC's) preferred digital partner, Link Digital has delivered a refreshed design for CTC and Canberra Ticketing that renders across all mobile platforms including smart phones and tablets.
Responsive design is more about responding to consumers than to technology. This has been the experience of the Canberra Theatre Centre's Marketing Manager Ricky Bryan whose patrons told him they wanted a "better experience on our website via mobile and tablet devices".
During the same workshops that identified the need for responsive design, a further need to improve online efficiency for promoting and managing show information was also agreed. For a patron to enjoy a rewarding theatre experience visual appeal and variety are paramount and this need is mirrored by theatre websites, particularly via ever changing images. As such, the design of the websites has a primary focus on promoting shows via a gallery/poster layout, which allows for scalability on different page templates (e.g. homepage preview and listing preview) and, as mentioned, mobile and tablet devices. While both sites make use of the same wireframes and design principles, minor differences around the use of colour and logos subtly retain distinction between the two brands. Both sites share the same image dimensions, which reduces the number of different sized images to be uploaded and creating a simple process for Canberra Theatre's venue hirers.
The promotion and prominence of social media channels was an important inclusion in the new design to reflect the Theatre's frequent marketing efforts in this space. They enjoy an active following on Facebook, Twitter and YouTube, where patrons seek latest show news and promotional offers.
New templates have been integrated into LinkCMS for both CTC and Canberra Ticketing, with additional functionality in the form of a News Module and the ability to sell pre-sale tickets. Both sites also have the flexibility to raise the prominence of particular shows on the homepage, extending the image real estate of select shows to have double, triple or quadruple the promotional space.
Above: Initial wireframe proposed, demonstrating the new layout for the Canberra Theatre Centre homepage.
Below: The designs adopted for wide, portrait tablet and mobile screen sizes.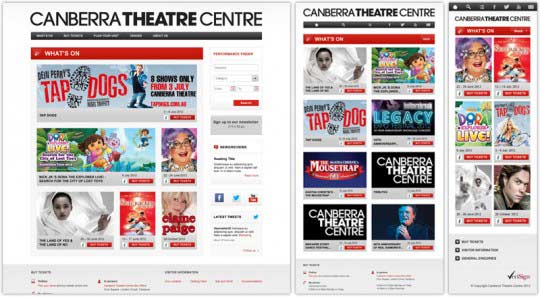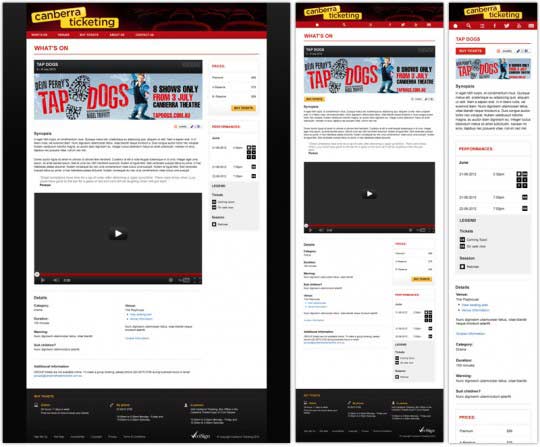 View the live site and book your next show in Canberra at www.canberratheatre.com.au.