Link Digital initially won the contract to provide design services for the redevelopment of IP Australia's website. By focusing on customer service and strategic consultation our involvement grew to include template development, content migration and systems integration. Some of the new site's features include: Improved navigation and usability through multi-tiered navigation menus. A mailing list
---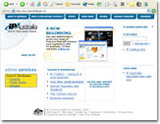 Link Digital initially won the contract to provide design services for the redevelopment of IP Australia's website. By focusing on customer service and strategic consultation our involvement grew to include template development, content migration and systems integration. Some of the new site's features include:
Improved navigation and usability through multi-tiered navigation menus.
A mailing list service to help keep users up to date with news from IP Australia, including official notices, job openings and hearing decisions.
An improved search engine to help users find what they need quickly.
A new look and feel, providing users with a cleaner, more intuitive interface.
Additionally, an innovative approach taken with the site's structure now allows for the maintenance of both text and image versions of the site through shared content resources. The same approach allows for site-wide updates to key navigation elements and metadata tags.